LISTED BELOW by DATE OF ENROLLMENT #1 thru 200
Notes
founding Member #7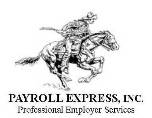 Payroll Express Inc. started active marketing in 1995 and has grown into the "Perfect Sized" Professional Employer Organization (PEO) As a family-owned business, we understand the trials and pains of managing employees. We strive to aid our clients in the same manner as those companies and individuals that helped us learn and grow.
We are sometimes asked when we attend PEO industry conventions and meetings, "When are you going to grow into a larger PEO?" Some of our fellow PEO's have thousands of employees and hundreds of clients. We like to respond by saying, "We like the size that we are, we like to be able to personally contact each and every client and we really make an effort to make sure that our client's employees are truly Our employees and not just another number in the file system."
We did, in fact, outgrow our old office and in 2005 we purchased the old Burger-Doodle restaurant building on Sheyenne Street in West Fargo. With the help of many of our clients in the building construction trades we totally renovated and expanded it. We opened our new office in May of 2006. As a tribute to our company theme and the American spirit, we patterned our building after the original Pony Express building in St. Joseph, Mo. If you are in the area please take a minute to stop in for a cup of coffee and a tour.
Payroll Express was the first and is still the only Professional Employer Organization (PEO) headquartered in North Dakota. They are a family owned business that partners with small and mid-size companies to help with human resources, benefits and payroll.
Darcy was recently elected President of the Professional Administrative Co-Employers (PACE). PACE is a national network of HR outsourcing executives, owners and associate organizations dedicated to equipping members with the tools they need to thrive in an ever-changing regulatory environment. Darcy served as Vice President of PACE for the past two years and was on the Board of Directors prior to that.
Todd is active in the legal and legislative issues that involve the PEO industry. He makes numerous trips to Bismarck during the legislative session allowing our Clients the opportunity for direct input on issues relating to employment. Not only is Todd our government expert, he is also our authority on marketing and purchasing as well as building/grounds and IT maintenance. Public relations and delivering payroll packets are the favorite parts of his job – he loves to visit with our clients and employees! The personal touch of delivering payroll allows him to attend to their needs on a regular basis.
Categories:
active Member,
Advisory Board Member,
Executive Events attendee,
Executive Events panelist/speaker/sponsor,
Founding Member,
Gold Sponsor Member
Membership Capacity: 200 | apply
Our 
GOLD Sponsor Members
– thank you!
Our Members by order of enrollment
Wes Henry, CIO/Partner

Barry Dresser, President

Josh Christy, Founder and CEO

Don Grande, President

Dean Vollmer, President

Ron Fuhrman, President

Darcy Pope-Fuchs, President

Doug Johnson, President

Wayne Bradley, CEO

Paul Hannaher, President

Deb Asp, President

Ben Meland, President

Neil Blanchard, Founder and CEO

Guy Nelson, President

Todd Fisher, President

Mark Giddings CPA, CEO

Jim Kasper, President

Jon Kungel, President

Tom Kading, President

Nolen Bertsch, President

Harlan Goerger, President

Patrick Emerson, Owner

Rick Berg, CEO/Co-Founder

Jorin Johnson, President

Steve Koep, President

Bob Gibb, President

Kristi Larkin, President

Zach Paxton, President

Vince Wuebker, President

Kevin Johnson, President

Scott Thuen, Owner

David Dietz, CEO

Jim Buus, President

Mike Graham, President

Ben Koppelman, President

Debby Jaeger, Owner

David Reid, President

Cindy Cole, President

Larry O'Brien, President

Cindy Tyo, President

Jon Lowry, PE, Owner

Brady Nash, CEO

Dan Parker, Owner

Kent Satrang, CEO/GM

Brett Colliton, COO

Dave Anderson, President

Mike Dragosavich, Publisher

Tracy Green, Broker/Realtor

Matt Lachowitzer, Founder/CEO

Shawn Weyer, Owner

Kari Score, President

Art Rosenberg, Owner

Chris Kennelly, Attorney

Brandon Pittenger, Owner

Brook Lyter, Owner

Stu Stockmoe, President

Jodee Bock, Founder

Mason Orth, DC, CEO

Kim Bjoralt, President

Mark J Lindquist, CEO

Ross Almlie, President

Russell J Schell, President

Nick Horob, Founder

Richard Cossette, President

Ken Storm, President

Bob Sinner, President

Jim Howe, President

Barry Maring, President

David Chapman, President

Roger Christianson, President

Mike Meagher, President

Judy Gartner, CLU, ChFC

Allen Ralston, Owner

Jessica Hoppe, Relationship Mgr

Kelly Wentz, Regional Mgr

Tim Eissinger, CEO

Chad Guttormson, Owner

Rob Burke, Owner

Rachael Boyer, CEO

Paul Highness, Partner

Steve Tweten, President

Mike Brevik, Owner

Sheri Larson, Executive Director

Steve M Dusek, President/CEO

Paul Smith, Regional Director

Heather Aal, Program Director

Mike Sundquist, Partner

Alex Warner, Founder/Chairman

Dayna Del Val, President and CEO

Edd Goerger, President

Deb Balzer-Plageman, Asst Director

Darren Rogness, President

Anthony Molzahn, Founder

Mike Troje, President

Dan Hicks, President

DJ Colter, Owner/Agent

Amber Metz, Executive Director

Ryan Keel, Owner

Chris Lange, President

Don Arvidson, Owner

Andrew Abernathy, CEO

Barry Gish, President

Chuck Hoge, Executive Director

Matt Magness, Executive Director

Dave Nelson, President

Andy Draeger, General Manager

Robin Nelson, Executive Director

Bill Erickson, President

Andrea Hochhalter, President

Kristi Ulrich, Executive Director

Paul Bougie, Visionary

House of Bouge Creative Services

David Hamilton, Executive Director

Russ Richards, Executive Director

Lonnie Pederson, Executive Director

Andy Rodgers, Personal Member

Stacie Loegering, Executive Director

Brenda Warren, Executive Director

Patrick Kirby, Founder

Melissa Rademacher, President

Jani Skala, CEO

Brandi Youngmark, Owner

Jarrod Nyland, Owner

Michael Comstock, President

Jared Ferguson, Business Services

Michael Johnson, President

Ciara Stockeland, Founder

Travis Beauchene, Artist/Owner

Sylvia Lunski, Designer/Owner

Kia Adams-Mikesh, Vice President

Dan Cash, Vice President

Dana T Sand, President

Dave Harmon, President, MD/DJ

Trent Lee, Vistage Chair

Dan Retzlaff, President

Peter Schott, Founder

Ty Ford, President

Mark L. Bjerke, Owner

Jim Hamel, CFO

Rick Stenerson, Media Consultant

Todd Berning, Owner

Adam Martin, Founder

Matt Chaussee, CEO

Char Gust, Owner

Sandra Vigen, Owner

Michelle Swanson, President

Molly Rohrer, Co-Founder

Lisa Bortnem Wiser, President and GM

Shelle Hagen, Owner/LMT

Jay Peltier, President

Alex Vasichek, Owner | Operator

Joe Heilman, General Manager

Mike Mulwani, SVP / Retail Market President

David Batcheller, President and CEO

Nicole Seaberg, Vice President

Ole P. Rygg, Owner

Janelle Albrecht, Owner/Agent

John Fisher, Executive Director

Simon Wilson, Executive Director

Ryan Such, President

Miranda Burfeind, Owner

Beau Flom, Owner

.
capacity
from marketing, financial and coaching,
to office furniture, technology and attorneys,
everything that you need and
everyone that you need to know
to operate and grow your organization…
meet the business leaders of the100,inc. 
"Building professional relationships
and networks is the fundamental basis
of my business practice."