listed below by enrollment date, first to most recent
or view by…
click the Member's name to see notes, bio etc.
Notes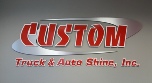 Custom Truck and Auto Shine Inc is a home-grown, local Fargo business that's become a local powerhouse in auto services with more than 20 years under our belts.
Auto Detailing. Mobile Wash. Semi Truck Detailing. Body Shop. Rhino Linings. + much more.
At Custom Truck & Auto Shine Inc. Our customer's satisfaction is the most important factor to us, whether it be detailing, body work, polishing, painting, letter removal, sandblasting or any other service. Contact us today for more information about any of our work!
In the fall of 2017, Jason opened Custom Express Car Wash @ 4682 32nd Ave South, Fargo.
Categories:
Ag Services,
Automotive | Fleet,
Member | the100,inc.
Member roster beginning August 14, 2015…Day 1
Wes Henry, CIO/Partner True IT  

Josh Christy, Founder/CEO  Codelation

Neil Blanchard, CEO/Founder Profit Pros        

Jim Kasper, President Asset Mgmt Group, Inc  

Brad Jacobson, President/COO Western Banks                  

Steve Koep, President Fargo Snow          

Kristi Larkin, President Laurie's

 

Dan Altenbernd, COO / Partner H2M

Larry O'Brien, President O'Brien Seed Co  

Cindy Tyo, President/Owner Travel Travel       

---

January 1, 2016 – official launch date

---

Mike Dragosavich, Founder/Publisher Spotlight Media       

Ross Almlie, Financial Advisor FutureBright   

Mike Clevenger, President    

Terry Loomis, General Manager KQLX Radio 

Roger Christianson, President Christiansons

Mike Meagher, Founder/President Sagency

---

January 1, 2017 – 1st Anniversary

---

Allen Ralston, Owner Allen Ralston Marketing

Jessica Hoppe CFP, Relationship Mgr Alerus Financial 

Heather Aal

Barry Gish, Certified EOS Implementer Traction Planning

Andy Draeger, General Manager Meridian Seeds

Bill Erickson, President Rapid Refill

Andrea Hochhalter, Chief Operating Officer hue.life

Paul Bougie, Visionary House of Bouge Creative Services

David Hamilton, Executive Director FM Opera Company

Andy Rodgers, Personal Member

Brenda Warren, Executive Director Bonanzaville

---

January 1, 2018 – 2nd Anniversary

---

Ciara Stockeland, Founder Off Price Exchange

Trent Lee, Vistage Chair Vistage

Rick Stenerson, Media Consultant Stenerson Advertising

Adam Martin, Founder F5 Project
Membership Capacity: 200 | apply
from marketing, financial and coaching,
to office furniture, technology and attorneys,
everything that you need and
everyone that you need to know
to operate and grow your organization…
meet the business leaders of the100,inc. 
"Building professional relationships
and networks is the fundamental basis
of my business practice."