CLICK the MEMBER'S NAME to open their full profile
Notes
Executive Events panelist 9.13.2017: Extreme Leadership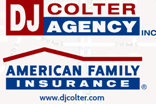 DJ Colter is the owner of the DJ Colter Agency of American Family Insurance, where he has been taking care of the needs of clients since 2003. His agency currently has two branches in Fargo and Cando, ND. In addition, DJ is an entrepreneur and has had ownership in several businesses including Ron's Aqua Massage, Oreck Clean Home Center, Basement Technologies of North Dakota and Mrs. Field's Cookies. He and his business partner Jason Frueh are enjoying success of their international business My Creative Shop. He also oversees the business operations of several rental properties.
DJ and his team have received many awards over the years including 2004-2017 AFLIC (many LIfe Diamond) and All American (10 year Hall of Famer) designations with American Family Insurance. His agency was #7 (among 4000 agencies) in the 2016 All American campaign, the first time this has been awarded to a ND company in its 90 year history.
DJ is passionate about giving back to his community. He volunteers, has held leadership positions or has been o various committees in the Chamber of Commerce, Realtors' Association, Homebuilders' Association, Emergency Food Pantry, Valley Christian Counseling, Athletes in Action, CRU, Followship of Christian Athletes, FM Powerlunch and is a member of the Horace Lions Club.
He and his wife Jennifer are the parents of three daughter: Kennedy, Harper and McKenna. They currently live in Horace.
Categories:
active Member,
Executive Events attendee,
Executive Events panelist/speaker/sponsor