listed below by enrollment date, first to most recent
or view by…
Biographical Info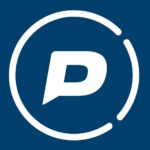 David Dietz, CSP, has worked several positions with Preference since the early 1990's. Since his first contribution as a temporary employee, he has worked several positions throughout the organization. Today, David devotes his time to a variety of operational tasks. As a business minded staffing professional, David holds a BS in Accounting along with an Employment Law Certification by the American Staffing Association (Certified Staffing Professional). He is Trustee and Plan Administrator of the Preference ESOP.
Values David Creates For Clients:
Solving problems related to human capital, leadership and sales
Consultations on cost-of-hiring and cost-of-turnover
Consultations on talent acquisition processes
In-depth understanding and experience with attracting and retaining employees
Relationship manager to client's senior management and HR
Experienced at developing customized staffing and placement service plans
Strengths in understanding client's business and human capital challenges
General knowledge of co-employment laws, business insurances and workplace safety
David's involvement in the placement and staffing industry includes:
Chairman of the American Staffing Association's Industrial Staffing Policy Council – June 2010 – December 2011
Board Member of the National Independent Staffing Association – January 2008 – December 2011
President of the North Dakota Staffing Association – July 2007-December 2009
David is also a past board member of Cultural Diversity Resources and is an active member of St. Anne and Joachim Catholic Church. In his free time, David enjoys spending time with his best friend and wife Misty and their children Taylor and Christian. Besides weightlifting and reading, he is passionate for wilderness adventures in lakes/forest, prairie and mountainous ecosystems. He also enjoys windsurfing, cross-country skiing, snowshoeing, hunting, fishing and eating wild game.
---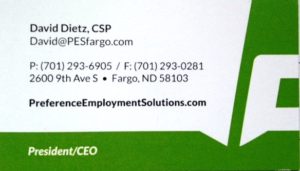 Categories:
Business Services,
Consulting,
Human Resources,
Member | the100,inc.
Member roster beginning August 14, 2015…Day 1
Wes Henry, CIO/Partner True IT  

Josh Christy, Founder/CEO  Codelation

Neil Blanchard, CEO/Founder Profit Pros        

Jim Kasper, President Asset Mgmt Group, Inc  

Brad Jacobson, President/COO Western Banks                  

Steve Koep, President Fargo Snow          

Kristi Larkin, President Laurie's

 

Dan Altenbernd, COO / Partner H2M

Larry O'Brien, President O'Brien Seed Co  

Cindy Tyo, President/Owner Travel Travel       

---

January 1, 2016 – official launch date

---

Mike Dragosavich, Founder/Publisher Spotlight Media       

Ross Almlie, Financial Advisor FutureBright   

Mike Clevenger, President    

Terry Loomis, General Manager KQLX Radio 

Roger Christianson, President Christiansons

Mike Meagher, Founder/President Sagency

---

January 1, 2017 – 1st Anniversary

---

Allen Ralston, Owner Allen Ralston Marketing

Jessica Hoppe CFP, Relationship Mgr Alerus Financial 

Heather Aal, Business Development Manager BBB of ND/MN

Steve M Scheel, CEO Scheels 

Barry Gish, Certified EOS Implementer Traction Planning

Andy Draeger, General Manager Meridian Seeds

Bill Erickson, President Rapid Refill

Andrea Hochhalter, Chief Operating Officer hue.life

Paul Bougie, Visionary House of Bouge Creative Services

David Hamilton, Executive Director FM Opera Company

Andy Rodgers, Personal Member

Brenda Warren, Executive Director Bonanzaville

---

January 1, 2018 – 2nd Anniversary

---

Ciara Stockeland, Founder Off Price Exchange

Trent Lee, Vistage Chair Vistage

.
Membership Capacity: 200 | apply
from marketing, financial and coaching,
to office furniture, technology and attorneys,
everything that you need and
everyone that you need to know
to operate and grow your organization…
meet the business leaders of the100,inc. 
"Building professional relationships
and networks is the fundamental basis
of my business practice."