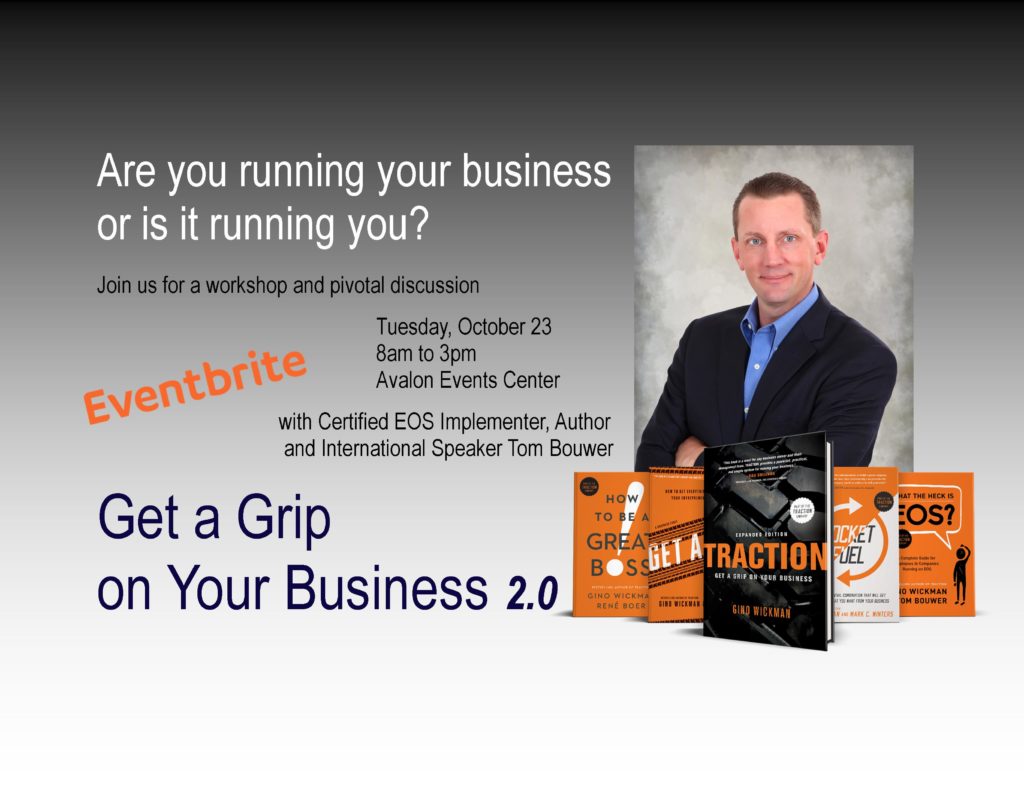 8:00 Enjoy coffee with dozens of the region's best business leaders and meet our Sponsor companies!
8:30 Tom Bouwer has presented to hundreds of audiences, both domestic and international, over the last ten years. His high-energy, high-engagement style keeps people fully absorbed until the last minute. He facilitates a tight session, with ample time for Q&A. Attendees leave with real-world, practical tools they can immediately implement to achieve better leadership team alignment driving improved results and higher employee engagement to positively impact company culture.
12:00 Buffet Lunch in the Millenium Ballroom from the Avalon Chef
1:00 3 Advanced EOS Breakout Sessions (attendance optional)
2:00 Meet and Greet. Hang around and discuss the day's material with presenters and other local leadership teams. Stop by our Sponsor business tables.
This event is intended for Presidents, CEOs and leadership teams of both EOS and non-EOS implementing organizations. 
Expected attendance: 300-500
Morning Presentation/Workshop | Millenium Ballroom | 8:30 – 12:00
Get a Grip on Your Business: ver. 2.0
Workshop description...
If you'd like to be in more control of your organization, you're not alone. As thousands of business leaders have discovered, the key to faster growth, bigger profits, more loyal customers and fewer frustrations is EOS®.
EOS (Entrepreneurial Operating System) is a comprehensive business system with real, simple, practical tools.
This presentation helps participants learn to implement a simple "way of operating" that helps leadership teams clarify, simplify and achieve their vision.
Leaders looking for a silver bullet or the next "flavor of the month" need not attend. In this value-packed workshop, attendees learn to see their businesses in a whole new light and to achieve better results through strengthening the Six Key Components™ of a truly great organization. The outcome creates alignment and synchronizes all the pieces of your business to produce the results you want.
Attendee Value and Takeaways:
• Review the Six Key Components of top companies: Vision, People, Data, Issues, Process, and Traction
• Learn a powerful tool to clarify and achieve your vision
• Work with two simple tools that will get the right people in the right seats
• Build the right company scorecard to deliver an absolute pulse on your business
• Master practical tools that successful entrepreneurs use to get more done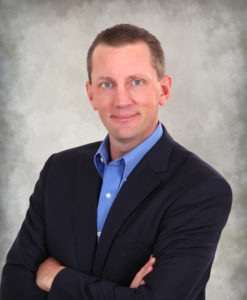 Meet Tom...
Tom leverages his international and diverse industry experience to help clients get more of what they want from their business. He is a Certified EOS® Implementer and Partner at ProfitWorks, LLC. His nearly three decades of global management/consulting experience in multiple industries help him quickly identify chronic issues that keep a company from achieving optimal success.
Upon reading Gino Wickman's book "Traction®," Tom recognized tools that were Real, Simple, and Results-Oriented. He understood how these tools could have helped him in past business ventures and knew their power to resolve universal issues that all business leaders face. Driven by a core value to help others, Tom made a decision to transition from entrepreneur to an entrepreneur-coach by becoming a Certified EOS Implementer. Equipped with EOS tools and his extensive business knowledge, he began delivering value to clients across the U.S., helping them realize instant traction in their own businesses.
With his energetic presentation style, Tom delivers high-value engagements that have actionable takeaways. He has helped over 100 companies achieve alignment at both the leadership and staff level. A top-ranked Vistage speaker, Tom presents internationally to the CEO and C-level members of this and other world-class executive organizations.
In addition to running his own company in Turkey, Tom has worked for start-ups, Fortune 50 companies and has consulting experience with Deloitte & Touche and Booz Allen Hamilton. He earned his B.A. from Hope College and MBA from the Fuqua School of Business at Duke University.
Tom lives in Atlanta, GA. His household has been made more interesting by his four dogs – Boo Boo, Tiffany, Mocha and Scooby. Tom shares humorous "lessons from the pack" in his sessions and believes the discovery of Wickman's EOS model helped him gain his own traction in delivering the most compelling work of his career.
Breakout Session 1 | Sheyenne Ballroom | 1:00 – 2:00
Streamlining the Level 10 Meeting
Session description...
Streamlining the Level 10 Meeting™
Take your EOS® Level 10 Meetings™ to the next level with Traction® Tools, your officially licensed provider of EOS software. Traction Tools gives you all the EOS Foundational Tools™ in one centralized location to help you run efficient, high-quality meetings that are more productive and more engaging. Our software allows you to focus on the content of the meeting itself and solve Issues efficiently.
Join our live demo with Isaiah Nolte, our Client Success Leader. You'll discover how Traction Tools helps you manage all of the Foundational Tools in the EOS Process™, from start to finish, including:
V/TO™

Level 10 Meeting Agenda

Accountability Chart

Weekly To-Dos

Scorecard Measurables

Quarterly Rocks

IDS™

Quarterly Conversations™

LMA™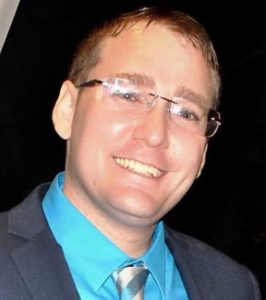 Meet Isaiah...
For more than 20  years, Isaiah Nolte's passion for helping and supporting others has led him to continually innovate, create efficiencies, and streamline processes.
At age 18, Isaiah founded The Invisible Force, an organization he sold after 10 years. He then traveled to Central America for a two-year missionary trip, where he still spends time today.
Nowadays, Isaiah serves on the the Traction Tools Leadership team as our Client Success Leader. Isaiah and his wife, Tatiana, have been married for five years and are parents to four boys and one girl.
Breakout Session 2 | Prairie Rose Ballroom | 1:00 – 2:00
Getting More From Your People
Session description...
Getting more from your people
Business owners and managers struggle with putting the right person in the right seat.  While an employee may have the experience, motivation, smarts – it does not mean that they have the instinct to perform a in certain position.  Employers run into "people challenges" for many reasons – but one of the key reasons is overlooking employee instinct.  This is a significant oversight because it can actively bring down the team; while understanding this information can unleash true team synergy (making the whole greater than the sum of the parts).
 Attend this session to learn about the following:
Instinct (and – whether or not you acknowledge it – it is present on your team!)

When to use certain talents on your team

Implications of instinct in hiring
Meet Erin...
Erin Werde, President
KOLBE A™ INDEX RESULT: 7832
Erin has served as President of Affiance Coaching since 2012. As a Kolbe-Certified Consultant, she has introduced thousands of individuals to Kolbe Wisdom™. Erin continues to be inspired each day by the philosophy of "living within your instincts" — doing work that is consistent with your "natural way" of getting things done. Erin believes that using Kolbe Wisdom™ in the workplace makes for the most efficient use of time and resources, as well as creating more fulfilling work. Her passion comes through in all her client engagements.
Erin holds dual masters degrees from the University of Minnesota — a Masters in Public Policy and a Masters in Social Work. Her formal education allows her to evaluate issues on a macro level, while understanding and communicating with clients on an individual basis.
 
Erin resides in Golden Valley, MN with her husband, Skylar, and son Eli.
Breakout Session 3 | Dakota Ballroom | 1:00 – 2:00
Rolling Out EOS Company-wide
Session description...
The real benefits of Traction and the Entrepreneurial Operations System (EOS) are realized when everyone in your company is involved. 
After your senior leadership team has mastered the Entrepreneurial Operating System®, there comes an exciting – and maybe slightly scary – milestone in your implementation of EOS: it's time to teach the rest of the company how to do it. We call this the "rollout," and it begins when your leadership team works together to help next level leaders, managers and supervisors begin using EOS foundational tools in their departments or teams.  In this session you will discover the Seven Keys to a Successful EOS Rollout.  Whether you do your rollout to one layer of management at a time or to everyone all at once, these few things you can do to make sure the process goes as smoothly and successfully as possible. 
We will share with you those 7 Keys to a Successful EOS Rollout, plus you will hear real-life experiences of rolling out EOS by a panel of local business leaders who have been through it.  You will hear about the challenges and the rewards.  They will also be available to answer questions you might have about rolling it out to your team. 
Barry Gish is a Certified EOS Implementer whose passion it is to see entrepreneurs get all they want from their businesses by helping them and their leadership teams simplify, clarify, and achieve their vision.  He has served in the business community for more than 30 years.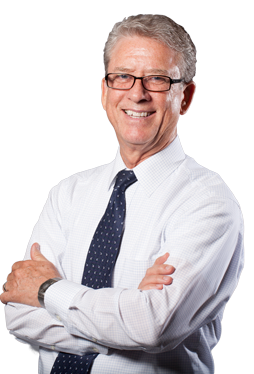 Meet Barry...
Focused on Helping You in Your Business
Barry Gish, Certified EOS Implementer and owner of Traction Planning, is a proven professional in helping Leadership Teams get what they want from their organization for more than three decades.
Barry has a unique ability to understand the challenges of leadership and management and is well-acquainted with what it takes to run an organization. He has held positions with IBM and RSM McGladrey at a national level, as well as various regional firms. He has served as President and COO, Vice President of Planning and Development, Vice President of Development, Consulting Manager, and Sales Representative with industry-leading companies.
Barry has been adviser and facilitator to numerous Leadership Teams in construction, manufacturing, distribution, retail, and service firms, as well as non-profit entities including colleges, tribal, and religious.
With every client, the goal is simple: to help Leadership Teams reduce frustrations, gain control, and get better results by mastering The Six Key Components™ of The EOS Process™, get what they want from their organization, and become a stronger more effective entity.
Barry is driven to excellence, committed to the highest integrity, and focused on measurable outcomes for each client. His customer relationships, built on his sound counsel and personal commitment to helping them meet their goals, has earned him their lasting trust and friendship. Barry has two married daughters, 8 grandchildren and lives in Fargo, ND with his wife of 46 years.
This event proudly brought to you and hosted by
and made possible with Sponsorship by 
these great companies