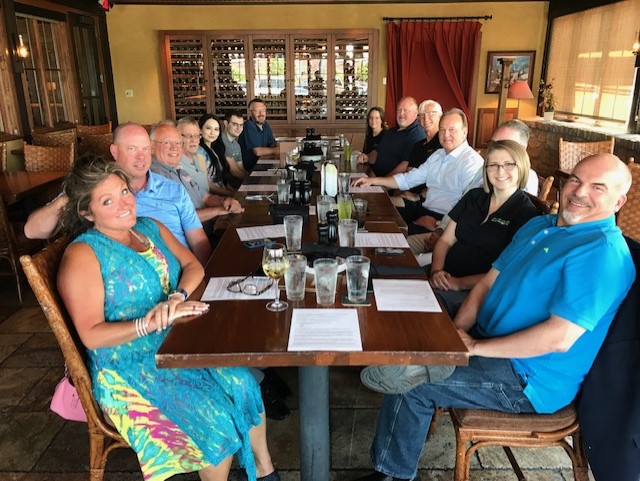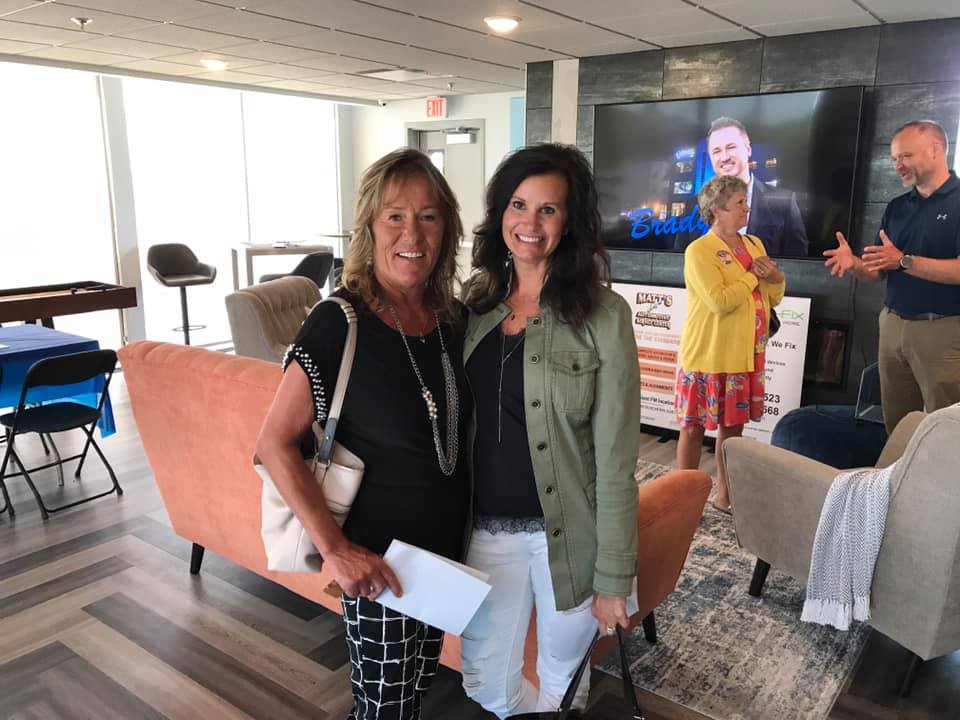 On a daily basis, Executives' Club Members are invited to participate in our private Facebook discussion group, the100,inc. Members Only; smaller 5-15 Member discussion forums called 4:00 Off-Sites; one-on-one strategy sessions we call 2.60.10 Meetings; as well as connect and collaborate through personally-facilitated Member-to-Member introductions
Each Wednesday, Members are invited to meet for an intimate and trusted discussion over lunch at Porter Creek Hardwood Grill in Fargo, called wednesdays 12to1. Attendees participate in a high-level conversation of a selected leadership or management topic. Members have the opportunity to individually facilitate these lunch conversations with a topic of your choice.
Every Wednesday at Porter Creek, except the 3rd Wednesday, where we still meet for lunch, but at a different Member's business each month. This, we refer to as The 3rd Wednesday Roundtable. This 90-minute candid discussion includes a 10-minute Executive Insight and a 30-minute open-forum, called Real Business Solutions. Members have the opportunity to host and to present the Executive Insight segment.
Each January, our Members host a half-day conference designed exclusively for area business leaders. The Executive Expo is open to all regional Owners, CEOs and Executives and features local speakers, local business displays and each year carries a theme of leadership. The Expo always includes a meal and a happy hour networking social. CLICK for details
Schedule of upcoming events
TOPIC: Janelle Albrecht: Is your message being received? Do you have emotional intelligence?
---
MissManagement: Women who work, lead, counsel, support, breathe | created by Lisa Bortnem-Wiser
---
Wed. Oct 23, 12:00 – 1:00
TOPIC: tbd | available opportunity to present and/or facilitate
---
Avoid Fraud and Embezzlement: Best practices of accounting and internal controls | created by David Dietz
---
Wed. Oct 30, 12:00 – 1:00
TOPIC: A Conversation with Dave Ekman, President, Bridge Hospitality
---
TOPIC: tbd | available opportunity to present and/or facilitate
---
Wed. Nov 13, 12:00 – 1:00
TOPIC: A Conversation with Kent Satrang, CEO, Petro Serve USA
---
TOPIC: TBA | available to present Executive Insight
---
Wed. Nov 27, 12:00 – 1:00
TOPIC: tbd | available opportunity to present and/or facilitate
---
TOPIC: tbd | available opportunity to present and/or facilitate
---
Wed. Dec 11, 12:00 – 1:00
TOPIC: tbd | available opportunity to present and/or facilitate
---
TOPIC: TBA | available to present Executive Insight
---
TOPIC: tbd | available opportunity to present and/or facilitate
---
TOPIC: tbd | available opportunity to present and/or facilitate
---
WED. JAN 15, 10:00 – 4:00
Executive Expo III: Irrefutably Fargo REGISTER $100
TOPIC: 21 Irrefutable Laws of Leadership, by John Maxwell
---
Wed. Jan 22, 12:00 – 1:00
TOPIC: tbd | available opportunity to present and/or facilitate
---
Wed. Jan 29, 12:00 – 1:00
TOPIC: tbd | available opportunity to present and/or facilitate
---
TOPIC: tbd | available opportunity to present and/or facilitate
---
Wed. Feb 12, 12:00 – 1:00
TOPIC: tbd | available opportunity to present and/or facilitate
---
TOPIC: TBA | available to present Executive Insight
---
Wed. Feb 26, 12:00 – 1:00
TOPIC: tbd | available opportunity to present and/or facilitate
---
TOPIC: tbd | available opportunity to present and/or facilitate
---
Wed. Mar 11, 12:00 – 1:00
TOPIC: tbd | available opportunity to present and/or facilitate
---
TOPIC: TBA | available to present Executive Insight
---
Wed. Mar 25, 12:00 – 1:00
TOPIC: tbd | available opportunity to present and/or facilitate
---
TOPIC: tbd | available opportunity to present and/or facilitate
---
TOPIC: tbd | available opportunity to present and/or facilitate
---
TOPIC: TBA | available to present Executive Insight
---
Wed. Apr 22, 12:00 – 1:00
TOPIC: tbd | available opportunity to present and/or facilitate
---
Wed. Apr 29, 12:00 – 1:00
TOPIC: tbd | available opportunity to present and/or facilitate
---
TOPIC: tbd | available opportunity to present and/or facilitate
---
Wed. May 13, 12:00 – 1:00
TOPIC: tbd | available opportunity to present and/or facilitate
---
TOPIC: TBA | available to present Executive Insight
---
Wed. May 27, 12:00 – 1:00
TOPIC: tbd | available opportunity to present and/or facilitate
---
TOPIC: tbd | available opportunity to present and/or facilitate
---
Wed. Jun 10, 12:00 – 1:00
TOPIC: tbd | available opportunity to present and/or facilitate
---
TOPIC: TBA | available to present Executive Insight
---
Wed. Jun 24, 12:00 – 1:00
TOPIC: tbd | available opportunity to present and/or facilitate
---
TOPIC: tbd | available opportunity to present and/or facilitate
---
TOPIC: tbd | available opportunity to present and/or facilitate
---
TOPIC: TBA | available to present Executive Insight
---
Wed. Jul 22, 12:00 – 1:00
TOPIC: tbd | available opportunity to present and/or facilitate
---
Wed. Jul 29, 12:00 – 1:00
TOPIC: tbd | available opportunity to present and/or facilitate
---
TOPIC: tbd | available opportunity to present and/or facilitate
---
Wed. Aug 12, 12:00 – 1:00
TOPIC: tbd | available opportunity to present and/or facilitate
---
TOPIC: TBA | available to present Executive Insight
---
Wed. Aug 26, 12:00 – 1:00
TOPIC: tbd | available opportunity to present and/or facilitate
---
TOPIC: tbd | available opportunity to present and/or facilitate
---
TOPIC: tbd | available opportunity to present and/or facilitate
---
TOPIC: TBA | available to present Executive Insight
---
Wed. Sep 23, 12:00 – 1:00
TOPIC: tbd | available opportunity to present and/or facilitate
---
Wed. Sep 30, 12:00 – 1:00
TOPIC: tbd | available opportunity to present and/or facilitate
---
TOPIC: tbd | available opportunity to present and/or facilitate
---
Wed. Oct 14, 12:00 – 1:00
TOPIC: tbd | available opportunity to present and/or facilitate
---
TOPIC: TBA | available to present Executive Insight
---
Wed. Oct 28, 12:00 – 1:00
TOPIC: tbd | available opportunity to present and/or facilitate
---
TOPIC: tbd | available opportunity to present and/or facilitate
---
Wed. Nov 11, 12:00 – 1:00
TOPIC: tbd | available opportunity to present and/or facilitate
---
TOPIC: TBA | available to present Executive Insight
---
Wed. Nov 25, 12:00 – 1:00
TOPIC: tbd | available opportunity to present and/or facilitate
---
TOPIC: tbd | available opportunity to present and/or facilitate
---
TOPIC: tbd | available opportunity to present and/or facilitate
---
TOPIC: TBA | available to present Executive Insight
---
Wed. Dec 23, 12:00 – 1:00
TOPIC: tbd | available opportunity to present and/or facilitate
---
Wed. Dec 30, 12:00 – 1:00
TOPIC: tbd | available opportunity to present and/or facilitate
---
TOPIC: tbd | available opportunity to present and/or facilitate
---
Wed. Jan 13, 12:00 – 1:00
TOPIC: tbd | available opportunity to present and/or facilitate
---
WED. JAN 20, 10:00 – 4:00
the100,inc. events calendar + Kurt's daily schedule. To make an appointment, choose from the menu below