Everything that you need and everyone that you need to know, to successfully (and locally) operate your business!
Biographical Info

Mr. Tom Poole turned 70 last July. Tom graduated at the bottom of his class at Fargo Central High School, then off to Viet Nam for two voluntary tours as a combat medic. Then a degree in business from NDSU.
Tom started out as a cook at YMCA Camp Cormorant at age 14, then years with Country Kitchen, where they opened 151 units in 21 states. Then, Executive VP of Radisson Corp International under Curt Carlson. Then Regional VP of Perkins International, and then enough of the corporate stuff, and on to ownership of Jimmy John's gourmet sandwich shops in Chicagoland.
For the last 21 years Tom has been CEO and President of Swanson Holdings, Inc. Swanson Health, Avalon Events Centers, Sickie's in Fargo and Bismarck, Sweeto Burritos in Fargo and Grand Forks, and Easy Riders, a lowly saloon in Sturgis, SD. Also, Owner of King Leo's. Holdings in real estate in the FM area. Most notable achievement: 3 kids and 9 grand kids.
---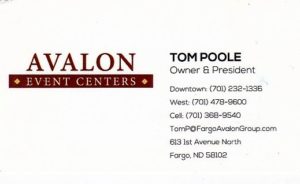 Categories:
Business Services,
Events | Entertainment,
Marketing
"Your reputation does not belong to you, however, your character is 100% your responsibility" – Jodee Bock