Biographical Info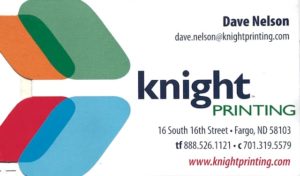 Dave Nelson, co-owner, Knight Printing of Fargo and Image Printing of Bismarck ….with nearly 25 years of printing experience, he has had the opportunity to experience all aspects of printing, from production, to sales and the business operations of the company.  His experience and expertise will assure your project will be done to your satisfaction with the best business practices in the industry. 
The world of Printing has changed dramatically over the past decade.  Dave makes sure Image Printing stay up to speed with the changing trends in Digital printing, cross media marketing, and the core business of Print.
The world of printing is exciting and dynamic.  If you need a new way to bring technology and unique products to your print experience, Dave is always available to assist.
Categories:
Business Services,
Events | Entertainment,
Marketing