Biographical Info
Chris Kennelly was raised in Fargo, North Dakota. He was always interested in business and law as a young man. In sixth grade, he wrote a school paper about how he wanted to be a certified public accountant and a lawyer. Chris' grandfather was the president of the Lincoln Mutual Insurance Company in Fargo at the time he retired. Chris' father was the controller at the Case tractor factory in Fargo.
Chris earned a degree in Accountancy from the University of North Dakota. He graduated cum laude. He subsequently passed the examination for the Certified Public Accountant designation. Chris then attended the Gonzaga University School of Law in Spokane, Washington. Chris earned a Certificate of Excellence for the highest grade in the study of contract law in his class.
Chris has focused his legal practice on business, real estate and estate planning. He has formed hundreds of entities on behalf of his clients. He assists clients in all aspects of their subsequent legal work including contract review and drafting and mergers and acquisitions.  Chris also practices extensively in the areas of real estate and estate planning. Away from work, Chris enjoys spending time with his wife and children and attending their many activities.
In his outside business interests, Chris is the President of the separately owned Frontier Title Group consisting of FM Title, Fargo ND, Barnes County Abstract, Valley City, ND, and Innovative Title and Abstract, Wahpeton, ND.  He is also the Chair of the Business and Corporations Section of the North Dakota State Bar.
Practice Areas
Business Entity Formation – S-Corps, LLC's
Contract drafting and review
Business purchase and Sale (mergers and acquisitions)
Real estate transactions
Estate Planning and Probate
Guardianships and Conservatorships
Bank Law – Loan Documentation, Foreclosures, Collections
Licenses
North Dakota State Bar
Certified Public Accountant – North Dakota
(inactive status)
Education
Gonzaga University School of Law – Juris Doctor
University of North Dakota – Bachelor of Science in Accountancy, cum laude
---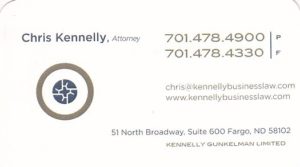 Categories:
Business Services,
Consulting,
Human Resources,
Legal
It seems like every day carries a new cost for business owners, whether it comes in the form of government regulations, increasing health care cost, or just the cost of goods sold.
With so many business clients large and small, Kennelly Business Law knows the last unexpected expense any business leader wants to see is for legal services.
For many business owners, the only thing more daunting than legal matters are financial matters. Combining those two complexities is the challenging world of Bank Law – a specialty that has become one of the most complex and daunting areas of law in recent years.
While the Sarbanes-Oxley Act of 2002 placed new and more in-depth restrictions and disclosures for investing, the global economic crisis of 2008 resulted in the federal government enacting significant new regulatory restrictions and consumer protections in matters of banking and finance.