Biographical Info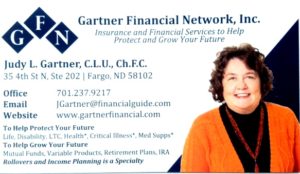 Judy has served as president of Gartner Financial Network since January 2001.
Prior to that, she began her career with Prudential of America in 1976, and in 1989 made the move to being totally an independent agent and rep.
In 1973, Judy earned her Bachelor of Arts degree from Concordia College, Moorhead,Mn.
In 1985 she earned the Chartered Life Underwriter designation and in 1988 earned the Chartered Financial Consultant designation, both from the American College in Bryn Mawr, PA. The golden rule is treating clients like you would want to be treated is stressed.
She has hosted numerous educational seminars in the community, has been an instructor for insurance agent education and also is an independent contractor with MHN, which provides financial education to the military.
Judy is dedicated to developing lasting relationships with all her clients. She has had many of them for over 30 years and has many generations of the same family.
She believes in helping each person become confident in assessing his or her financial goals and participating in the financial management process. Judy stresses educating her clients so they understand what they have and why.
One of the benefits of working withJudy is her ability to provide clear, easily understandable explanations of financial products and services.
The personal program that Judy can provide is a roadmap to working toward a more secure financial future.
Categories:
Business Services,
Consulting,
Financial,
Human Resources,
Insurance | Benefits

"Express Employment Professionals took the time to learn our company culture and work environment to find the best candidate fit."  – Ann, HR Manager