Biographical Info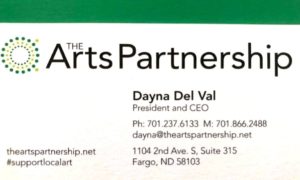 About The Arts Partnership
The Arts Partnership is a dynamic umbrella arts organization devoted to ensuring that the arts and culture in our community are being communicated about, funded, advocated for and spread across many sectors, including the business community, educational centers, government, and the general public. Representing over 150 arts nonprofits, artists and arts-related businesses in Cass and Clay counties, primarily Fargo, Moorhead and West Fargo, we are truly living out our mission to cultivate the arts in our community.
Dayna Del Val, Director
Dayna has been with The Arts Partnership since 2010. She writes a monthly column on the arts for The Forum as well as maintaining an active social media presence. She is currently board President of Arts North Dakota, a state-wide arts organization, as well as being appointed to the Art and Culture Commission for the City of Fargo. Additionally, she is a professional stage and commercial actor who can be seen and heard in local, regional and national ads. She is also a freelance writer; she currently writes the reflections section in Inspired Home magazine. Dayna lives in Fargo with her Plant Cell Wall Biochemist Irish husband and their exuberant golden retriever and looks forward to when their college-aged son is home on breaks.
Categories:
Business Services,
Events | Entertainment,
Health | Wellness,
Non-Profit
add'l content coming soon…