Biographical Info

Serving North Dakota since 1989, Vince and his team at HotSpring Spas & Pool Tables 2 are experts in the field and use nothing but the latest technology for pools, spas and hot tubs from equipment to water chemistry. They recently expanded the brand to Bismarck, opening a 16,000 square foot showroom at the Kirkwood Mall.
Hot Spring Spas, featured at Fargo Hot Spring Spas & Pool Tables is the largest Hot Spring Portable Spa and Hot Tub dealer in Fargo, ND, Cass County, and Clay County, MN.
We have been bringing quality leisure products to our customers for over 20 years. If you ever need a repair, our Hot Spring Spa customers can get quick, reliable service from our certified technicians. Our showroom is filled with spas for any budget along with pool & spa supplies and accessories. We have the largest selection of HotSpring Spas in-stock and we deliver and install.
We are your spa experts and carry only the finest spas in the market that are backed by some of the best warranties in the business. Whether it be relaxing in a Hot Spring Spa, Hot Spot Spa or FreeFlow Hot Tub, we can help. Give us a call, we have the friendliest staff around.
---
---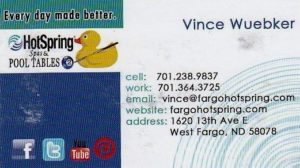 Member 41
the100 activity level | low
lunches | 0        Peer12 | 0
Awards
FARGO, North Dakota — HotSpring Spas N Pool Tables 2 of Fargo, North Dakota and owners Vince and Sarah Wuebker received top honors, being named the 2012 Locksin Thompson International Dealer of the Year by Watkins Manufacturing Corp., maker of Hot Spring Spas, the world's number one selling hot tub brand. Joined by six members of his team, owner Vince Wuebker also received the 2012 Productivity Award for a dealer with the highest sales volume for a single store. The awards were presented at the HotSpring National Dealer Kick-off held in Phoenix, Arizona.
Watkins Executive Vice President Mike Dunn called Wuebker and team, "Passionate believers in the HotSpring Brand, and true hot tub evangelists." They were also lauded for the admiration they have among the Hot Spring dealer network throughout North America.
"To be a Locksin Thompson Dealer of the Year, a dealer must embody the entrepreneurial spirit that enables them to recognize, adjust, and progress through the ever-changing challenges of the retailing and hot tub industry," explains Dunn. "True to the spirit of this award, HotSpring Spas and Pool Tables 2 is progressive and proactive," said Dunn. "They are committed to both achieving their goals and to providing an exceptional customer experience."
HotSpring Spas and Pool Tables 2 was chosen from among than 700 Hot Spring dealers worldwide to receive the hot tub manufacturer's most prestigious dealer award. The award is named in memory of Locksin Thompson, a highly respected, early pioneer dealer in the hot tub industry.
"When you think about all of the great dealers in the HotSpring family, which are the best in the business, to win this award is such a great honor it is almost impossible to explain," said Vince Wuebker, owner of HotSpring Spas and Pool Tables 2.
Categories:
Business Equipment,
Contractors,
Health | Wellness,
Retail