CLICK the BUSINESS NAME to view full profile
Biographical Info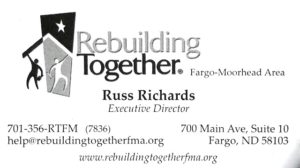 We offer home repair and renovation services; FREE of charge to low income families across Cass and Clay County. Many live in substandard conditions and the need continues to grow as more homeowners are forced to choose between vital necessities and critical home repair and maintenance.
We serve the hundreds of low income families in need of home repair with an emphasis on helping seniors, Veterans and people living with disabilities. Our goal is to help homeowners stay safe and healthy in their home by completing 30-50 projects each year.
http://rebuildingtogetherfma.org/what-we-do/
Russ Richards | Executive Director help@rebuildingtogetherfma.org
Beth Jansen | Development Director bethjansen@rebuildingtogetherfma.org
Lisa Nixon | Program Coordinator lisanixon@rebuildingtogetherfma.org
Who is eligible for Rebuilding Together services?
Low-income homeowners who cannot maintain their homes, as well as
nonprofit facilities, are eligible for our services. Some of the most common
types of homeowners are the elderly, persons with disabilities, veterans,
and families with children. To be considered for home assistance,
candidates must complete and submit an application form and provide
documentation of total household income, such as tax forms or pay stubs.
Some of our clients are referred through congregations, schools, community
agencies and service groups, or by self-referral.
APPLY
http://rebuildingtogetherfma.org/apply/
GIVE
http://rebuildingtogetherfma.org/give/