CLICK the BUSINESS NAME to view full profile
Biographical Info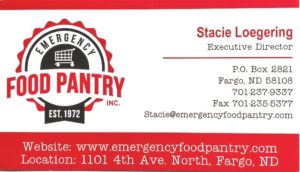 The Emergency Food Pantry is a food distribution program whose mission is to provide referred families and individuals facing emergency situations with one week's supply of healthy food. 
For over 40 years, the Emergency Food Pantry has been located in the Fargo-Moorhead community to help feed the citizens of Cass and Clay counties in times of crisis, unemployment, fire, family violence, medical problems, and other difficult situations. The Pantry provides hungry families and individuals with wholesome food to tide them over during these times of emergency.
http://www.emergencyfoodpantry.com/about.html
Stacie Loegering grew up in West Fargo, North Dakota.  She received her Bachelor of Science degree in Human Development at North Dakota State University and Master of Education at University of Minnesota – Duluth.  
Stacie is our Executive Director.  In this role she directs all programs, operations, and services. In her current role she connects individuals and families in Cass and Clay counties to healthy food. 
Prior experience includes 20+ years in nonprofit organizations working with individuals and families.  In each of her previous experiences she connected people with resources.  
Stacie Loegering | Executive Director
Caileen Heuertz | Board Member