CLICK the BUSINESS NAME to view full profile
Biographical Info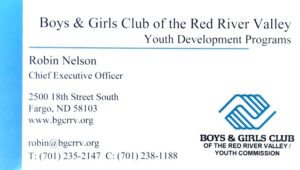 Robin Nelson has served as the Chief Executive Officer of the Boys & Girls Club of the Red River Valley / Youth Commission non-profit partnership since January, 2012.
Her personal commitment to our community is to provide today's youth with the tools to become productive and contributing members of society. Nelson's commitment to our youth's futures is evidenced in her history of serving as a three-term elected school board member and as a mayoral appointee to Fargo's Youth Initiative advisory board, Fargo's Native American Commission and The Mayor's Blue Ribbon Commission on Addiction coalition.
She currently serves as the North Dakota's Afterschool Alliance United States Ambassador; on the Workforce Development Committee addressing affordable childcare; as a Great Plains Food Bank board officer and a Fargo Public Schools Foundation board member; on United Way's Education Collaborative and as the Fargo Early Childhood Education Coalition Chair.
In addition, she has served as a Shriner's Children's Hospital Auxiliary fundraiser and a former school district Governmental Affairs chair and elementary school PTA president. Nelson has managed and consulted on countless political campaigns at the city and state level and serves as a frequent panelist and consultant in the educational, political and business community.