CLICK the BUSINESS NAME to view full profile
Biographical Info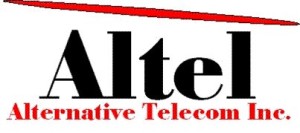 Altel Alternative Telecom Inc. was started in Moorhead MN, in 2000. At that time the owner, Cindy Cole Softing, had a simple philosophy: "The installation of properly designed, reliable, and cost effective telephone systems combined with quality services results in satisfied customers". Our Altel staff still practices that same philosophy to this day. We believe our customer service team & product line up is second to none in the region.
Altel focuses on all aspects of business, small, medium, and large. We have been providing telephone systems over the years to a wide variety of businesses. Altel has become the vendor of choice for numerous cities, school districts, hospitals, and hotels. dentists, & government agency's, Atel's reputation for excellence is based on its history of performance and the ability to provide simple solutions for complex communication needs.
Altel provides over 90 years of technical experience combined. We are an Iwatsu. Avaya & Asterisk dealer because we believe that they fit our customers needs best, with reliability & the latest tecnology communication applications available.
Although Iwatsu, Avaya & Asterisk, Switchvox are the flagship product lines, we also service many other product lines as well. We can service 99% of all business systems whether you purchased it from us or not. We service, Asterisk , AT&T, Lucent Partner, Fujitsu, Norstar, Meridian Mitel, Macrotel, Nortel, Iwatsu, Avaya, Toshiba, Inter-Tel, Vodavi, Comdial, 3-Com Shortel, & more.
Altel's success has been based largely on the expertise of its sales, service, and technical staff. Our sales staff is trained to understand that every business is unique and has its own communications requirements. We listen to what our customers needs are, and then provide the solution we feel will best work for them. If you have heard your current system is obsolete & can no longer get parts, in most cases, it may not be true.
Call us today & get the stright answer to your communication questions.
Altel Alternative Telecom Inc,
(701 282-7843)
---