CLICK the MEMBER'S NAME to open their full profile
Notes
Supplier of food quality soybeans and grains to food manufacturers globally.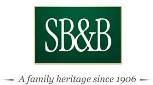 http://sb-b.com/about-us Sinner Bros. & Bresnahan (SB&B) is a family-owned, large scale agribusiness producing, processing and supplying the world's finest food grade products. Today our seven family partners manage our diverse operation from the North Dakota farm our grandfathers settled near Casselton, North Dakota nearly 105 years ago. Our 4700 acre (2000 ha) farm produces many types of crops, and we feed up to 5,000 cattle annually. While our agricultural production remains based in the rich, black profile of North Dakota's Red River Valley, SB&B has been supplying food grade crops both domestically and internationally for over 20 years.
In 1997 we established our marketing entity, SB&B Foods, Inc. to manage the marketing and sale of an extensive line of Identity Preserved (IP), Non-GMO, and Organic products to customers worldwide. As a leader in the industry, we are committed to supplying consistent, safe and reliable food ingredients to markets around the world.
Categories:
active Member,
Executive Events attendee,
Executive Events panelist/speaker/sponsor