CLICK the MEMBER'S NAME to open their full profile
Notes
the100,inc Media Sponsor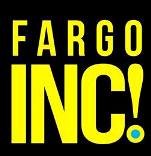 Fargo INC! is a monthly business magazine published by Spotlight Media in Fargo, North Dakota. Each month, Fargo INC! illuminates what is out there in the Fargo-Moorhead business world—from culture to community to advice to events. It's an essential source of information and ideas for local business professionals.
Fargo INC! reaches more than 100,000 people each month through FargoINC.com, our digital edition, the magazine and social media.
Spotlight Media LLC produces a staggering 4 magazines a month for the Fargo Moorhead community. Fargo Monthly features interesting people, places, and events in the FM area. Fargo INC! is Fargo's business magazine that is filled with helpful business tips to interviews with local businesses. Bison Illustrated is an NDSU sanctioned publication that focuses on individual athletes, coaches, and other individual group members as they progress through their college career. Design & Living Magazine is about showcasing the Red River Valley's interior design, architecture, and landscaping. It also profiles the people that make these things possible.
Categories:
active Member,
Executive Events attendee,
Executive Events panelist/speaker/sponsor,
Promotional Sponsor