CLICK the MEMBER'S NAME to open their full profile
Notes
founding Member #20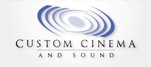 We are the premier electronic systems integrator in the West Fargo-Fargo-Moorhead area. We design and implement audio/video and automation systems for your home or business including: home theater systems, multi-room audio/video, lighting, shading, networking, surveillance and high-end control systems. Our team of customer-focused professionals strive to recommend the best solutions and services to fit your home or business, all while working within your budget and vision.
As a Design-Build technology integrator we implement 5 Phases through the course of a project from concept to completion. Careful thought and attention is given during each step to ensure you receive a solution tailored to your needs and delivers the benefits you desire. We are committed to making the entire experience from start to finish as effective and efficient as possible.
We are responsible for all phases of the AV and integrated technology work including the needs assessment, system design, engineering, installation, commissioning, training and service. During the design-build process it is very important to ensure the needs analysis (also called the Discovery) has been performed otherwise the system design and project contract will be too vague.
Categories:
active Member,
Executive Events attendee,
Executive Events panelist/speaker/sponsor,
Founding Member