Notes
Panelist 6.14.2017: Traction Intro and Overview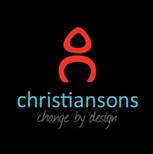 Christianson's Business Furniture is a privately held corporation founded in 1993. We are a full service contract office furniture dealer, assisting designers, architects and end-users in North Dakota and Minnesota.
We are a "Preferred Dealer" of Haworth furniture; a status attained after significant commitments have been achieved regarding Haworth focus, showroom facilities, sales, design and installation training as well as customer service.
Vision Statement: "To be recognized as the leading office dealer in our community, providing superior quality, value and customer service."
Categories:
Member | the100,inc.