Biographical Info
Residential and Commercial Painting, Concrete Coatings and Surface Preparation
Rachael Boyer | CEO
Jeff Boyer | President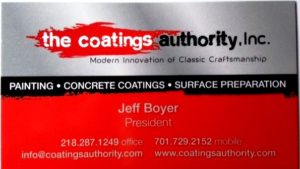 Rachael is a results-oriented, transformational leader, and business executive with more than 20 years of experience in construction and other industries. Rachael's entrepreneurial spirit has allowed her to develop several multi-million dollar businesses and brands from origination across a variety of industries. Rachael's passion for the construction industry has been built on the foundation of excellence with the customer at the center of the experience with the framework of passion to transform vision to success. Rachael is recognized as a dynamic and knowledgeable leader and driver of excellence, with an expert ability to strategically design and implement programs, create business opportunities from origination, and transform organizations. Rachael is a mother and wife with close connection and involvement with multiple community organizations. She is a member of the Home Builder's Association, Moorhead Business Association, sponsor for Babe Ruth Baseball, and has served on local school boards, and has volunteered with numerous community organizations.
http://www.coatingsauthority.com/meet-our-family/
Locations: 1
# of employees: 11
Categories:
Member | the100,inc.