Biographical Info
Profit Pros is a division of Advanced Business Solutions, LLC (ABS). Profit Pros software has serviced over 100 local companies, and has processed about a billion dollars in business revenue through its software system. This is a one-of-a-kind custom program, designed to uncover"Hidden ProfitsTM" and create opportunities through efficient business analysis – regardless of industry or size. Profit Pros is here to help business owners better understand their strengths and weaknesses through their numbers.
BIO
You might call Neil a Serial Entrepreneur since he is on his 13th company. He had a former engineering career that he left in 1997 to see what the other side looked like. Since then he has successfully started and sold 10 companies in 7 states and even had a failure along the way that has taught him a lot in his current venture. Neil started his most recent company Advanced Business Solutions (ABS), LLC in October of 2012. ABS launched its most recent software solution, SAAS, in April 2015 called Profit Pros (a financial software tool for small businesses) to a national audience and was recently awarded a Certified Primary Sector North Dakota Company as a new wealth creator in the North Dakota economy.
Neil is married to his wife Debbie who brought him back to her roots when they relocated to the FM area from southern California at the end of 2010. Together they have 4 grown children and 10 grandchildren. When not working they enjoy golf, Nascar, traveling and exploring new places and spending time with their grandkids. Neil loves the beach and craft beers."
---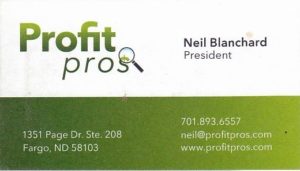 Categories:
Member | the100,inc.