Biographical Info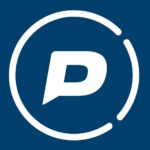 David Dietz, CSP, has worked several positions with Preference since the early 1990's. Since his first contribution as a temporary employee, he has worked several positions throughout the organization. Today, David devotes his time to a variety of operational tasks. As a business minded staffing professional, David holds a BS in Accounting along with an Employment Law Certification by the American Staffing Association (Certified Staffing Professional). He is Trustee and Plan Administrator of the Preference ESOP.
Values David Creates For Clients:
Solving problems related to human capital, leadership and sales
Consultations on cost-of-hiring and cost-of-turnover
Consultations on talent acquisition processes
In-depth understanding and experience with attracting and retaining employees
Relationship manager to client's senior management and HR
Experienced at developing customized staffing and placement service plans
Strengths in understanding client's business and human capital challenges
General knowledge of co-employment laws, business insurances and workplace safety
David's involvement in the placement and staffing industry includes:
Chairman of the American Staffing Association's Industrial Staffing Policy Council – June 2010 – December 2011
Board Member of the National Independent Staffing Association – January 2008 – December 2011
President of the North Dakota Staffing Association – July 2007-December 2009
David is also a past board member of Cultural Diversity Resources and is an active member of St. Anne and Joachim Catholic Church. In his free time, David enjoys spending time with his best friend and wife Misty and their children Taylor and Christian. Besides weightlifting and reading, he is passionate for wilderness adventures in lakes/forest, prairie and mountainous ecosystems. He also enjoys windsurfing, cross-country skiing, snowshoeing, hunting, fishing and eating wild game.
---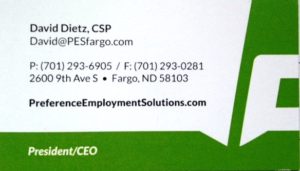 Categories:
Business Services,
Consulting,
Human Resources,
Member | the100,inc.