CLICK the MEMBER NAME to see full profile
Notes
The Dakota Monument Company was incorporated in the state of North Dakota on February 27, 1911 by O. C. Anderson, H. F. Nesne and O. Skognes. O. C. Anderson operated Dakota Monument Company until his death in 1938. At that time, his son, Frederick S. Anderson took over management of the company.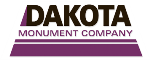 Frederick Anderson continued to operate the company until his death in May 1980. He was succeeded by his son, David F. Anderson. In May of 2013 Dustin Anderson the fifth generation joined the family business and does outside sales. David and his son Dustin continue the family tradition today.
Today Dakota Monument Company is the only monument company in the state of North Dakota that has been invited to be one of 50 members of the American Institute of Commemorative Art. The company also has been a part of the Monument Builders of North America for over 20 years and strictly follows its Code of Good Practice. The company is also active members in the Northwest Monument Builders and the Fargo Chamber of Commerce. Dakota Monument Company is an authorized agent for Royal Melrose Granite Company, Cold Spring Granite, Dakota Granite Company, Granit-Bronz and Matthew's Bronze International.
Categories:
active Member,
Executive Events attendee,
Founding Member