Biographical Info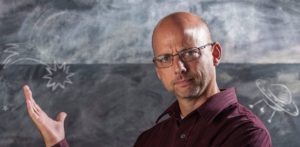 There's more to H2M's Dan Altenbernd than being a fan of obscure bands and beers. How much more? Read on…
Nine Questions With Dan:
Q: What drives you to achieve great results in your department?
A: Basically proof of performance. Everyone within our agency has a responsibility, and I want to be held accountable by the people I work with, and also to myself and family. I know that my personalsuccess can have a direct effect on a lot of people, so that drives me…as well as keeps me up at night.
Q: What do you do for fun?
A: I hang with my family. Nothing re-energizes me more than spending time with them. My kids are at such a fun age now, they keep my wife and I moving constantly. Whether its coaching, attending school events, or just playing in the backyard – its fun, and its awesome. I do enjoy fishing, golfing and movies – but its all with family in tow.
Q: Favorite commercial of all time?
A: Well, I think I have to put that into two categories. Long time favorite and current one that makes me laugh.
The current commercial that makes me laugh every time is the one for The Dollar Shave Club – "Tranq Dart" https://www.youtube.com/watch?v=PWPkZH_UicU The look on the dudes face when he takes a dart to the back of the neck is awesome.
My long term favorite, especially in the summer, is this real simple spot that ESPN Sportscenter did years ago. Its Arnold Palmer, mixing his own Arnold Palmer beverage, and the sports casters are just standing in the background watching. As Arnold walks away, they whisper "That was awesome." Its simple, its quick – and every time I order an Arnold Palmer, I think of that spot.https://www.youtube.com/watch?v=wLxKSvkpE1Y
Q: What's a TV show you never miss?
A: I'm afraid to say I have a lot. Here is my set rotation of shows I watch every week. The Walking Dead, The Middle, Modern Family, Big Bang Theory, Justified, Gotham, Brooklyn 9-9, (Sad to see Parks and Rec go). Couple new ones added to my schedule – Fresh off the Boat and Last Man on Earth. That's enough TV I think. My family thinks I am totally Phil Dunphy from Modern Family…which is both insulting and flattering…more insulting really.
Q: What is your best kept secret?
A: The most comfortable foot wear is socks and sandals. I would never wear them in public, and its too bad, cause IT FEELS AWESOME!!
(Editorial Note: Dan's thoughts and opinions are not necessarily those of H2M, especially this one.)
Q: What are your nicknames?
A: Goodness, I have a few. Alt, Alty, Salty, Sir Salt, Altesaures. Take your pick.
Q: Who is the most famous person you've met?
A: Probably Al Franken. Coming out of a hotel one day, Al was walking out, I just went right up to him and shook his hand "Al, how the hell ya doin!" He was very gracious and we conversed…he's probably still tracking me to this day. That was the same weekend I walked up to Dick Bremer and did the same thing (Twins announcer) – I was on fire.
Q: What is the one thing you cannot do without?
A: I honestly hate technology, so give me my wife and kids in a heart beat.
Q: What is your favorite quote?
A: "Why do research when I can just say it."
---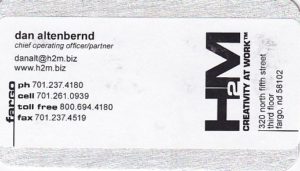 Categories:
Business Services,
Marketing,
Member | the100,inc.