Biographical Info

A-1 Moving Co. is a locally owned and operated moving company located in Fargo, ND. We specialize in the moving and storage needs of families and businesses. We offer a variety of household and commercial moving services, including local, long distance, and corporate moves. In addition we offer express delivery and junk removal services.
As a licensed and insured business, we pride ourselves on providing the most exceptional customer service and moving assistance available. We are dedicated professionals, and our moving company is committed to customer satisfaction from the first call you make to the last box you unpack.
Our highly trained professionals are qualified to handle every aspect of your move.  We look forward to servicing your move!
---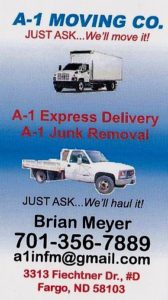 "Hi, this is Brian Meyer with A1 Services. We have A1 Moving, A1 Junk Removal, and A1 Delivery Service. I attended the last gathering and it was very interesting. I got to meet many business people there and I am looking forward to meeting more this time. I really feel it's worth the time and the investment to attend this event. Hope to see you and meet you there." – Brian, regarding the Peer12 Executives Series
Categories:
Member | the100,inc.