Forbes 3.6.15 | written by Joe Apfelbaum read article
A Smart Marketing Budget is one of the Most Important Things You Can Do for Your Company. So Why Are So Many Small Businesses Scared of It?
What are my needs? | What are you currently paying to play? | How fast can I afford to grow? | Am I able to take the risk? | How do I minimize my risk?
A Guide to Finding and Telling Your Brand Story
We want to see your marketing and messaging succeed. Whether it is video, blog, photo, or social, story format can connect you to your customers. So how do you tell a great story?
We've created a guide to get you started with 5 devices for shaping your own story. → get your free guide from Yarn Media | Rob Burke, Founder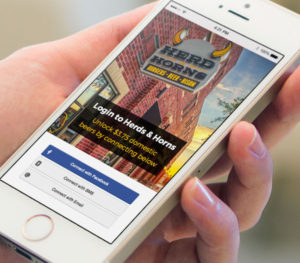 Here at H2M, we have always believed, and will continue to believe until proven otherwise, that advertising success is based on solid strategy and planning, not on tactics. We work with our clients to create advertising solutions that fit their budget, and we use our fair share of "shiny objects"... but only when the strategy calls for them. → read more 
Connect Labs | Brian Larry
How does it work? We make it easy.
Your guests connect to your WiFi with their social media, email, or phone number. You use that data to connect with them later. Are Tuesdays slow? Send out a promotion. Have a special event coming up? Tell your customers about it.
Why spend your marketing budget trying to capture first-time customers when you could spend just a few minutes a month generating repeat business from guests who already know you?
Marketing Support
We will sit down with you and decide what your business is needing and put together the best plan for you.  We can attend networking meetings for you, keep up with your LinkedIn page or Facebook page, meet with clients, create databases, visit local businesses with your message, direct mailings, help with newsletters.... Whatever your business needs to get your brand out there.
Here at Fargo INC!, we want to tell the best business stories the area has to offer, but sometimes the hardest part is just knowing what stories to tell. That's why we're enlisting your help in identifying FM business stories that might fit one of the following descriptions:
someone who failed in business, learned from the experience, and went on to start another, more successful business

any businesses with an interesting office space or work culture

an established businessperson in an industry who would be willing to mentor an up-and-comer in the same industry

any and all area entrepreneurs/startups whose company or idea deserve attention

any business and networking events you'd like us to include on our monthly events calendar

an area business leader who you think would be a good fit for our monthly "Local Leader" segment - this is typically  reserved for more general business advice and guidance
a prominent businessperson in the area who might be deserving of a cover story feature

any interesting stories about business education (K-12 & post-secondary), as well as any collaborative efforts between schools and area businesses

any businesses with Fargo ties doing business nationally & internationally

good places to hold meetings in town

business reading suggestions

any public policy-related issues affecting area and state-wide business
Nate Mickelberg    Editor - Fargo INC!
O: 701.478.7768  C: 701.212.0779