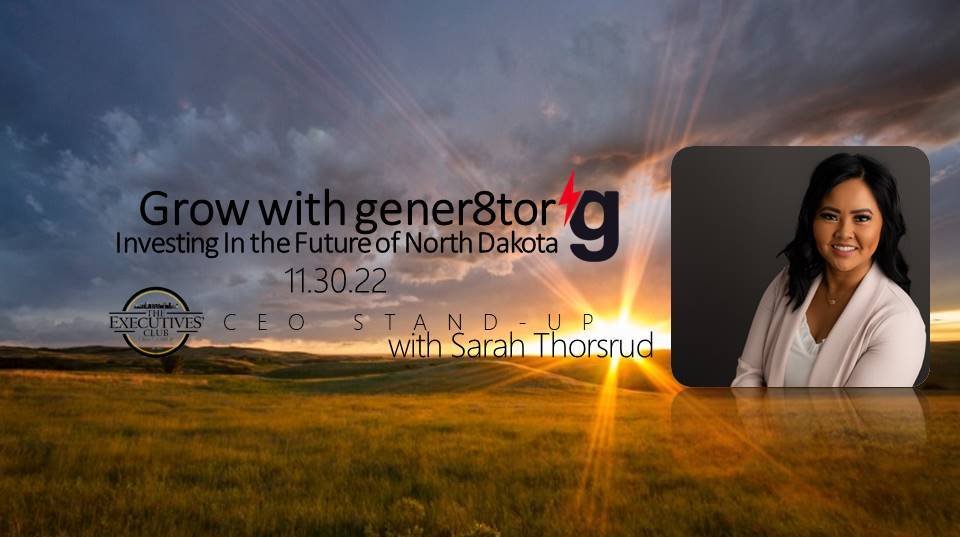 CEO STAND-UP w/Sarah Thorsrud, gener8tor
3
3 people viewed this event.
Members Only (Buy Your Own Lunch)
Grow with gener8tor: Investing in the Future of North Dakota, w/Sarah Thorsrud
This week's CEO STAND-UP welcomes gener8tor Program Manager, Sarah Thorsrud. Join Sarah and Members of the gener8tor Fargo team for this discussion.
A bit about Gener8tor: We are a nationally-ranked venture capital firm and accelerator that brings together startup founders, investors, corporations, job seekers, universities, musicians and artists. The gener8tor platform includes more than 75 programs spanning startup accelerators, corporate programming, speaker series, conferences, skills accelerators and fellowships. In North Dakota specifically, there are three opportunities: the free gBETA accelerator, the full-time investment accelerator, and the 1889 Fund.
Who should attend?
Knowledgeable and passionate mentors and investors interested in learning more about gener8tor, how we're contributing to North Dakota's growing ecosystem, and how they can get involved.
Takeaways:
The hope is that the conversation sparks interest in the work that gener8tor is doing in the state and that it will bring out the passionate mentors and investors to get involved and help drive impact and growth to the startup industry.
PRIVATE | Executives' Club Members and invited guests only.