Hiring a business coach, corporate trainer or speaker for your company event is as individual an experience as buying a car.
It's a decision based on features, performance and price, but also (and perhaps, mostly) it's a decision based on personal preferences and a connection to you and your organization.
For the same reason that many of the best car dealers in Fargo are located in the SW corner of Main Avenue and I-29, many of the best business coaches and leadership trainers in Fargo-Moorhead are Members of the100,inc.
"Who's the best business coach?" The answer, is the one that gets the best results for YOU and YOUR company!
---
If I can be of assistance in helping you decide or making an introduction, please let me know. thank you, Kurt kurt@the100.work
One of these business experts is generally leading our 3rd Wednesday Executive Lunch Series events. See Lineup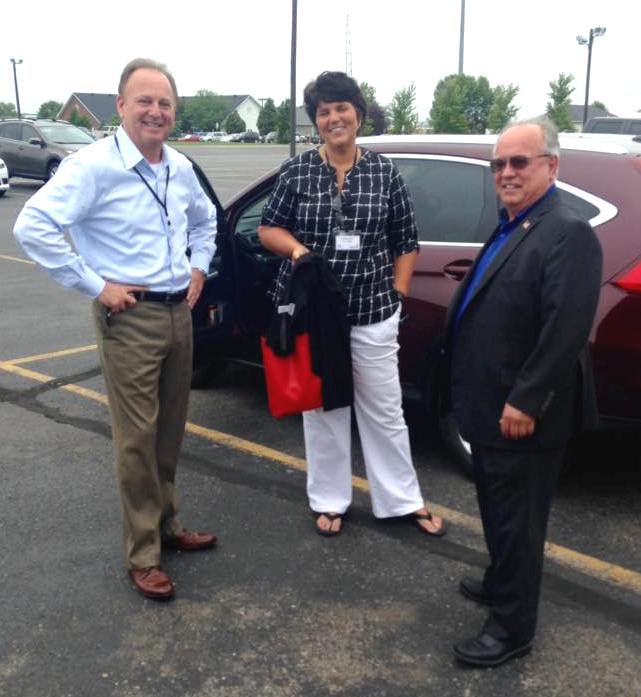 Brian Rinke | Jodee Bock | Harlan Goerger
12 Benefits of Hiring a Business Coach
1

|  To create an actionable strategic plan for growth and increased profits
2

|  To help you define key objectives and a clear vision for your business
3

|  To provide the accountability and support that will propel your success
4

|  To create systems that produce consistent and predictable results
5

|  To spend more time as the business owner and less time as the business operator
6

|  To have an objective opinion from an experienced and trusted advisor
7

|  To help you stay on track, prioritize and better manage your time
8

|  To create a team you can count on and one that believes in your vision
9

|  To relieve the bottleneck in your production, which impedes output
10

|  To improve internal communication, ensuring everyone understands
11

|  To improve efficiency, productivity and customer satisfaction
12

|  To encourage you to reach beyond what is familiar and comfortable

701.610.9055
Member since Aug 17, 2015
Meet Josh
Personal Mentoring and Coaching
We all have an idea of what we want to be when we grow up. You find that perfect intersection of something that you love and are just good enough at it, and you start to get excited. The excitement is overwhelming, but you slowly start to think…
Am I really good enough?
Should I do this?
Why me…
At this decision point we either dig in and go for it, or we chalk it up to another silly idea. What usually seperates those two is someone standing shoulder to shoulder with you, encouraging and helping guide you through life, family, and business. There are so many distractions, so many things that feel like they are priority #1, and when everything is a priority, nothing is.
Whether you are just starting out or your company has been around for a while and looking to take things to the next level, I've been there. For the last 8 years I've been running a digital agency and custom software shop. We've had some great success, as well as some pretty low points. We've started a few products, some worked, some failed.
In all this time I've come to believe that you need a plan and someone to help encourage you when you hit those low points. Having a plan doesn't guarantee success, however if you don't have a north star that you are going after, how do you know when you've won? If you are anything like me you'll lose interest and give up. That's why I've created a plan to help others get to where they want to go, and hopefully learn from my mistakes so you don't have to feel the pain.
---
Caution: If you are looking for a miracle cure or someone to 'shoot the breeze' with, this isn't for you. We are looking for real results which requires real work. Lets get it done!
---
Ok, if you're still reading, here is what I can help with. First a couple of things:
I only take 20 total coaching clients at any time, no exceptions

I offer two different coaching packages to choose from.

I don't accept everyone into the coaching program, I need to add value to you and your business

If you think you are a good fit, click on the lets get started button below and we'll connect over email or skype

We ask for a 3 month committment, but if you aren't getting what you expect we'll refund your month. Don't worry, we'll still be friends 🙂

701.799.1972
Member since Aug 28, 2015
Meet Harlan
Harlan Goerger is founder and president of H. Goerger & Associates, dba AskHG. As a facilitator, Harlan has worked with countless companies of all sizes and industries. In the business world, he has observed the ideas and concepts that work, and also those that are not as effective. His experience gives his business solutions the ideas and cautions that not only keep risk levels low, but boost growth levels as well. Harlan's insight does not come from textbook insight, but real life, real business experience.
Harlan has authored three books on business and sales and has created countless training and development programs for business, including the CEO Solution groups, Performance Based Management Program and the New Paradigm Selling System.
It was the desire to have a positive impact in the business community that drove him to develop the CEO Solution groups. By positively impacting the leadership capability and capacity of business owners and CEO's, the entire organization has been impacted for the better!
On a personal note, Harlan has three grown children which all run successful business enterprises and have graced him with seven grandchildren and two great grandchildren. Harlan loves tinkering with custom cars and motorcycles- basically anything that goes fast.
Harlan is certified in:
DISC Profiles

InnovatorMindset Profiles

Persuasion Boot Camp by Dr. Kevin Hogan

ND/MN Insurance License 17270294

Former Dale Carnegie Instructor in seven programs
Compare CEO Solutions
TARGET CLIENTS: Fast growth companies in the 2 million to 100 million range with an emerging or established leadership team. They are looking for growth, acquisition, building scalability, CEO Elevation, and focused on Bottom line results, not just top line.
EXPECTATION: We provide strategic packages the drive the company to its strategic objectives. This may include CEO/Presidents Peer Groups, individual and Executive team coaching, leadership training and development, sales process and training, working with operational systems that work, utilizing various profiles and evaluations for bench marking, strategic planning sessions, additional leadership development.
DIFFERENCE: Because we focus on Strategic profitable growth, we are in for the long run and not a short term shot in the arm. Our objectives are notable and sustainable behavioral development of leadership and team. Systems, process and people are developed for growth and sustainability. Organizations are equipped to be proactive to internal and external threats and opportunities.
RESULTS: Our focus is on bottom line results that are sustainable and scalable. Leadership teams are at their effective peaks with capacity depth and high quality output. CEO/Founders are elevated to drive growth and build the company, culture and sustainability. Growth is often times in the 30-300% range.

701.730.1827
Member since Apr 20, 2016
Meet Jodee
Jodee Bock is a dynamic business communicator who encourages people to practice riskful thinking as opposed to merely wishful thinking. By encouraging them to think beyond their reasons, she leaves audiences with new insights, along with ideas for turning their knowledge into action.
Jodee is the founder of Bock's Office Transformational Consulting and has over 15 years of experience in the areas of corporate communication, media relations, executive coaching, and training and development. She holds certifications in Life Purpose and Career Coaching, Job Relations Training (JRT), Bob Proctor's Life Success Consulting®, and Accelerated Innovation Training and Coaching from SolutionPeople in Chicago.
The author of Own Your Story: The Invitation, The 100% Factor: Living Your Capacity and co-author of Inviting Dialogue: Inspiring Stories About the Power of the Master Mind and Don't Miss Your Boat: Living Your Life With Purpose in the Real World, Jodee is also a highly sought after keynote speaker, workshop facilitator, and business consultant. She has spoken at events all over the United States and designed and delivered customized workshops and seminars for dozens of clients.
Book Jodee to Speak at Your Next Event or contact her for a Free Consultation today.

701.205.1913
Member since May 26, 2016
Meet Mark
Mark J Lindquist Performs for the Largest Crowds In America
Mark performs over 100 times per year and no event is too small, no crowd too large!  Whether it be a small monthly meeting with 24 people or a major corporate conference with thousands in an arena, Mark would love to make an impact on your people!
As seen on ABC's LOST, CBS' Hawaii Five-O and the Universal Studios movie "Battleship," Mark J Lindquist is a nationally recognized motivational speaker, highly sought-after success coach, lead singer of the Mark J Lindquist Big Band, world-touring entertainer, US Air Force and Afghanistan war veteran, and author of the books, "Passion! 8 Steps to Reignite Yours," "Passion! 8 Steps to Find Yours" and "Service! My Way of Life."  
Mark has performed live for over 2.5 million people in 22 countries and 44 states throughout his career.  He has performed for Grammy winning artists, Academy Award nominated actors, foreign dignitaries around the world as well as staffers at the White House.  Mark has been featured on CNN.com, C-Span, The Washington Post, The Washington Times, The Dallas-Fort Worth Star Telegram, The San Francisco Chronicle, The Miami Herald, The Houston Chronicle and the Korea Today Newspaper (Seoul, South Korea). http://www.markjlindquist.com/bio.html 

1.888.877.4651
Member since Dec 20, 2016
Meet Mike
The value of clarity
We understand how it feels to be fuzzy about what will help your organization experience healthy growth. We also know how hard it is to find clarity on your own. When it comes to identifying the right strategies–or the right people–to help grow your business, making the right choices can feel like a shot in the dark. Sagency has the pleasure of helping hundreds of leaders find clarity, so they can confidently make decisions that support their organization's growth.
And once you get clarity on the things that matter most, making great hiring and strategy decisions becomes more of a science than a guessing game.
Mike Meagher is president and leadership consultant at Sagency, a leadership consulting and executive search firm located in Fargo, ND. He partners with leaders to build valuable and impactful organizations where people reach their full potential.  Mike's craft combines practical strategies and the science of human behavior and motivation to help leaders hire, engage, develop, and retain the best people.
Mike began his career as a high school social studies educator and went on to be the business administrator for a church. He is a leader with a passion for building profitable and impactful companies through high-performance cultures. He believes the most important business decisions are about people, and the strongest driver of business success is hiring and developing the right people. Mike's work originates from the truth that employees who are provided growth opportunities, personal fulfillment, and roles that fit them well will be more engaged. This engagement leads to greater personal satisfaction, productivity, and return on human investment.
Mike enjoys reading blogs and nonfiction books, and he participates in outdoor activities with friends and his wife, Ashley,  daughter, Annie, and son, Miles. His favorite book is Four Obsessions of an Extraordinary Executive written by his favorite author, Patrick Lencioni. Mike loves spending time mountain biking—yes, even in eastern North Dakota. He also enjoys golf, cross-country skiing, hunting, and grilling with friends and family. https://sagencytalent.com/mike-meagher/

701.499.5273
Member since May 5, 2017
Meet Paul
Paul Smith, MS, EDFP
As regional director of the Fargo ND Small Business Development Centers, Paul helps entrepreneurs and small business owners in Cass, Steele and Traill counties to start, manage and grow their companies through providing confidential and free business advising services, technical assistance and connections with other resource providers.
He has helped hundreds of small business owners in a range of industries to register their business, write winning business plans, develop detailed financial projections, research market trends, analyze business financial performance, buy and sell businesses, and obtain funding to fuel business startup and expansion. Of all ND small businesses which have received SBDC services during the past 5 years, 90% are still in business.  
Paul has more than 25 years of business and consulting experience in a diverse range of industries, which include: Financial services, retail, manufacturing, technology, transitional management, agribusiness, customer service, engineering, consulting, non-profit, healthcare, agency and media.   
Paul has lived in Fargo since 1992. He holds a Bachelor's Degree from Lawrence University and a Master's Degree from Northwestern University. He also earned his Economic Development Finance Professional (EDFP) certification.
 If you would like to sign up for free counseling services, please visit our website at http://ndsbdc.org/fargo.cfm

701.200.4000
Member since Aug 5, 2017
Meet Barry
Barry Gish, Certified EOS Implementer and owner of Traction Planning, is a proven professional in helping Leadership Teams get what they want from their organization for more than three decades.
Barry has a unique ability to understand the challenges of leadership and management and is well-acquainted with what it takes to run an organization. He has held positions with IBM and RSM McGladrey at a national level, as well as various regional firms. He has served as President and COO, Vice President of Planning and Development, Vice President of Development, Consulting Manager, and Sales Representative with industry-leading companies.
Barry has been adviser and facilitator to numerous Leadership Teams in construction, manufacturing, distribution, retail, and service firms, as well as non-profit entities including colleges, tribal, and religious.
With every client, the goal is simple: to help Leadership Teams reduce frustrations, gain control, and get better results by mastering The Six Key Components™ of The EOS Process™, get what they want from their organization, and become a stronger more effective entity.
Barry is driven to excellence, committed to the highest integrity, and focused on measurable outcomes for each client. His customer relationships, built on his sound counsel and personal commitment to helping them meet their goals, has earned him their lasting trust and friendship. Barry has two married daughters, seven grandchildren and lives in Fargo, ND with his wife of 44 years.

218.299.3036
Member since Aug 8, 2017
Meet Matt
Small Business Development Centers (SBDC) were created in 1980 with a simple goal in mind: to help small businesses start, grow, and succeed. In general, the West Central Minnesota Small Business Development Center (WC MN SBDC) provides over 3,500 hours of no-cost business consulting to over 250 clients on a yearly basis. The WC MN SBDC assists in securing over $14 million in investment capital annually. The nine counties we serve are Becker, Clay, Douglas, Grant, Otter Tail, Pope, Stevens, Traverse, and Wilkin. The WC MN SBDC is a public and private partnership supported by the U.S. Small Business Administration (SBA), the Minnesota Department of Employment and Economic Development (DEED), Concordia College and other local partners.

701.261.7861
Member since Aug 9, 2017
Meet Teresa
Striving to help you achieve a Healthy Mind, Healthy Body, Healthy Soul
Helping you achieve a Healthy Mind …  Teresa is an inspirational speaker, mindset coach and author.  She works one-on-one, in small groups, teams, and with any size audience. Great results are achieved when she gets to work with teams on an ongoing basis; monthly accountability plus group dynamics create huge strides forward. She is a certified coach and speaker with The 7 Mindsets. This allows her to share the principles that lead to happiness, meaning, success and fulfillment.
Helping you achieve a Healthy Body …  In February 2016, Teresa was introduced to doTERRA and, after gaining knowledge on the healing and restorative properties of essential oils, felt compelled to share what she was learning with others. Teresa and team provide regular educational classes and also educate through one-on-one meetings.
Helping you achieve a Healthy Soul … Since July, 2014, Teresa has been a weekday morning co-host on uplifting Life 97.9. This allows her to share God's unconditional love with thousands on a daily basis.
Teresa brings passion, optimism and integrity into her work. Her life experiences have paved the way for her to positively impact her clients. She's had over 25 years in the business world, with several years in human resources. What she loved most about human resources was the opportunity to provide others with encouragement and support and this is now what she brings to her clients. She is an engaging and interactive facilitator who brings practical application to ideas and dreams.
Teresa can relate to a full schedule and juggling many priorities and volunteer activities. Her husband Steve is a commercial realtor and owns Polar Ice & Snow Management and Lewis HT. Teresa and Steve are blessed with two daughters, plus a Norwegian daughter who came in the form of an exchange student. They are based in Fargo ND and love their summers at the lakes of MN.

701.361.3873
Member since Sep 7, 2017
Meet Andrea
WHAT DOES HUELIFE MEAN?
HueLife helps organizations and communities solve challenges related to human understanding and engagement (that's what huestands for).
Our facilitators, trainers and consultants use participatory methods, organizational psychology, story-telling, team-building and self-awareness techniques to tap into the wisdom of groups, from small teams to entire organizations.
A big proponent of customer-centricity, Andrea helps clients and communities use participatory methods to solve organizational issues, plan strategically and achieve shared outcomes. She also oversees HueLife's infrastructure and systems. Before her life as an entrepreneur, Andrea worked at Microsoft developing teams and leading projects nationally and internationally. She has an MBA in Information Systems and a Bachelors in Psychology. She is also a ToP trained practitioner, and certified by Dale Carnegie and Rotary International. Talk to Andrea about facilitating, training or presenting.

952.237.0836
Member since Oct 23, 2017
Meet Patrick
Patrick Kirby is the Founder of Do Good Better Consulting and a believer that "we've always done it this way" is the most dangerous phrase in the English language. 
Patrick has spent over a decade working in nearly every capacity in the nonprofit industry, for organizations of all shapes and sizes, and strives to 'Do Good Better' every day. From organizing $10,000 cure walks to $1 million galas, Patrick's passion lies in creating creative solutions to make fundraising less boring. 
He cut his donor relations/fundraising teeth as the Alumni Coordinator at the Academy of Holy Angels in Richfield, MN, before trying his hand as a manufacturing sales rep to companies such as Target and Best Buy. Tired of being yelled at for uncontrollable international shipping issues in both English and Chinese, Patrick re-joined the world of nonprofit work as the Sr. Development Director at the Cystic Fibrosis Foundation MN/Dakotas Chapter before taking the Chief Development Officer position at the Anne Carlsen Center.
He earned his B.A. in "B.S." (politics) at Loras College in Dubuque, IA, and is hopelessly addicted to super nerdy Sci-Fi/Fantasy novels and old school SquareSoft ® RPG Nintendo games. Patrick married out of his league to his wife Shannon, has three ridiculously adorable children named Spencer, Preston and Willow, a chunky dog named Grover, and lives in West Fargo, ND. 

218.847.5225
Member since Dec 27, 2017
Meet Mike
A holistic approach to helping people in business execute real solutions for the real problems they encounter every day. At the core is a leadership, brand and culture focused approach to coaching people through their challenges to become who they want to be as a person in the world, and as a person in business. Services include business coaching, tax advisory, accounting advisory and investment advisory.
Professional Background: Michael is a trusted Business Coach. He prepares 300 tax returns per year, and has over 29 years in the tax business. Michael has a Bachelor's Degree in Business Administration and is a Fellow of the National Tax Practice Institute. Michael does business, corporate, individual, farm, and daycare, taxes.
About Mike: Michael is married to Donna,  his wife of 29 years and has several four legged children. They have been successfully breeding and showing wire fox terriers since 1986. Michael's hobbies and interests include golf, travel, and cultivating friendships.
Favorite Non-Fiction book: Good to Great by Jim Collins Favorite Work of Fiction: All the Iron Man movies.

701.219.4402
Member since Mar 1, 2018
Meet Trent
I lead Vistage CEO peer advisory groups and conduct one-to-one coaching sessions for North Dakota business executives who want to become better leaders, make better decisions, and achieve better results.
The Vistage peer advisory group brings together CEOs from non-competing industries who are serious about professional and personal growth. In the confidential group setting, we challenge assumptions in a non-judgmental manner and empower each other to move our businesses and personal lives forward. The only agenda is to foster each other's development. It's lonely at the top, with few people to provide unbiased advice or to hold us accountable. A Vistage group provides a safe place to ask tough questions and drive better results.
Vistage Worldwide is the world's leading chief executive organization, with over 21,000 members in 20 countries. For more than half a century, Vistage has helped over 75,000 CEOs to grow their businesses, reach financial independence, manage stress, and achieve greater work/life balance.
Learn about the six pulse points most businesses should be addressing at Sagency
Get a Grip – Chapter 1
Traction – Chapter 1
Rocket Fuel – Chapter 1
Decide – full ebook
Tax Organizers | Lease Questionaires | W-9, I-9, W-4 more
to receive the latest strategies, data and hacks not published anywhere online.
Own Your Story: Goals to Glory
Own Your Story: The Invitation
Inviting Dialogue: Inspiring Stories About the Power of the Master Mind
The 100% Factor: Living Your Capacity
Don't Miss Your Boat: Living Your Life With Purpose in the Real World
Teresa Lewis | Keynote Speaker
at North Dakota Small Business Development Center